I felt there was something very wrong on the first morning we arrived at our Disneyland Paris (DLP) Hotel.
There was worldwide unrest and death being reported on the BBC in Bahrain and beyond and there was I queueing up for breakfast with my family surrounded by opulent splendour watching grown ups taking photos of their loved ones next to a guy dressed up in a Goofy outfit.
He was giving out autographs too.
But Disneyland Paris is like that.
I
think
I get it.
It's a place of contradictions but no worse for it.
Walt's optimism and trust in the human spirit shines through everywhere in the park - It's just a shame that he allegedly never trusted anyone in business but himself.
In front of its façades lies a surreal place that allows people to put modern day life on hold for a couple of days.
There may be excitement and chaos at DLP but there is a sense of order that is never too far away.
This Blog of sorts is my attempt at putting together an offbeat snapshot of memories and images from my visit 13 Feb - 17 Feb 2011 in ten (Count 'em..ten) short parts.
Be warned.
I did say offbeat.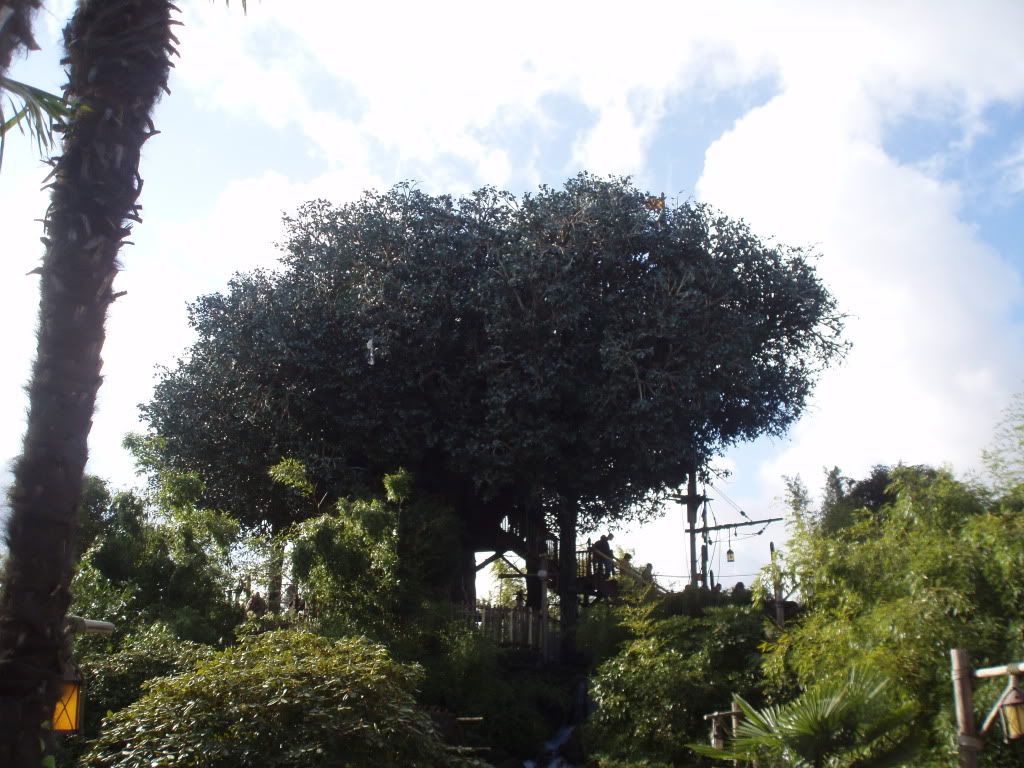 Listen, you can forget your Space Mountain Mission 2 - Give me La Cabane Des Robinson any day. (The Swiss Family Robinsion Tree House)
This artificial Banyan Tree (Fig Tree) rises 91 feet and its branches have 300,000 artificial leaves and 50,000 flowers.
This walkthrough..
no
walk in..
no
walk up and down attraction is a classic imagineer accomplishment.
At its base down by the roots is Le Ventre de la Terre (The Belly of the Earth literally translated) where supplies of the ship's wreck can be seen stored behind bamboo bars.
As a kid I always wanted a treehouse like this.
I'm sure my dad did too.