One of the park's major attractions..This is as about as mainstream as this Blog is going to get!
But Hey, I do have a soft spot for this ride.
...probably because Ann and I rode it on the first week it opened (It opened 30th July 1993)
Back then it was pouring with rain and there was a biting wind and we were the only people we saw "queueing" for the attraction at the time.
This time there was a 15 min queue in overcast weather but I have known 90 mins queues so you have been warned!
For those of you who are unfamiliar with the workings and layout of this coaster it has one loop but you can't view it from the available viewing area: It's very much hidden.
To be fair most of the track is hidden from view for the observers which has to be a lost opportunity as far as I'm concerned.
Perhaps if the park is extended in the future then this is a great area to do this from and finally "open up" all the ride for all to see.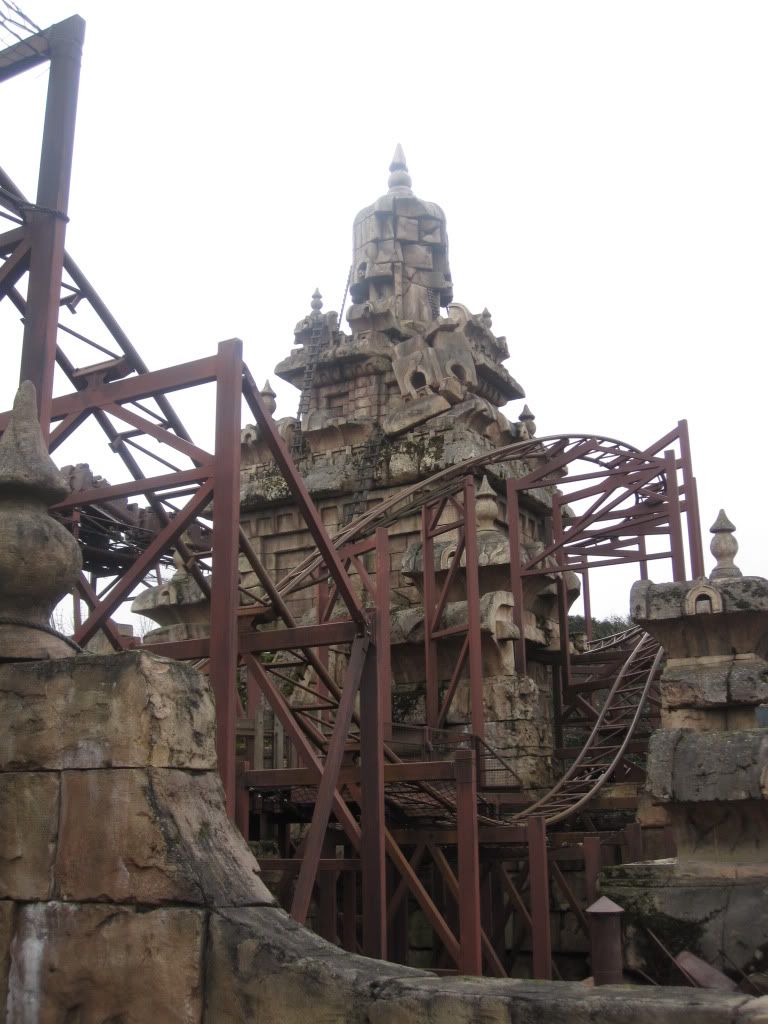 This from the wonderful Roller Coaster Data Base (RCDB) website:
"..The track layout of the Indiana Jones is copied from the first looping roller coaster built by the Pinfari company. Pinfari called this a TL-59, the TL stands for "The Loop" and the 59 is for the ride's 59m width. This Intamin version copies the course, but uses a track style that is unique to Intamin.

Originally the Indiana Jones was a traditional roller coaster where the trains traveled in a forwards direction. In 2000 several changes were made. The most significant was changing the direction of the trains. This involved not only turning the trains around, but adding additional scenery as now riders are watching from the opposite direction.

The track was also altered in places to increase the banking. Finally the cars were changed from 2 rows per car to 3 rows per car, thus increasing the riders per train by 50%.

Between November 28th, 2004 and December 3rd, 2004 the Indiana Jones was closed while the trains were turned around and once again, riders travel forwards once again..."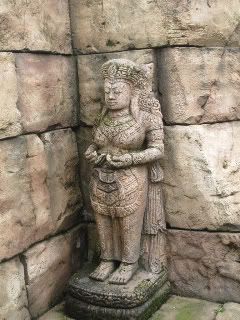 Ann and my daughter Isabel can lay claim to riding this coaster backwards back in 2003 but unfortunately I can't.
My neck wouldn't have taken it..