As it's quiet, I thought I'd post some photos of old amusement machines.
This is a Mills Hi-Top, made in Reno around 1960, about half-way through restoration. It was scrap when I bought it. It had been burglarised sometime before decimal coinage came in and then left in a damp garage for 30 years.
A Ruffler & Walker "Win a Penguin" Allwin made in 1950. This had been disused for 35 years when I bought it, but it needed very little work to get it going and I haven't restored it, just fettled, cleaned, oiled and waxed it.
Tim Hunkin worked as a Saturday boy for Ruffler & Walker when he was 16 or thereabouts and often cites his time there as being the inspiration for his inventions.
Lastly, a Testo Reaction Meter. These were built by a TV and wireless repairman in Llandudno in the 60's and 70's and installed in pubs and clubs in the North-West. This was the cheapest one to buy, you can still get one on eBay for less than £50, but it is my favourite by far because the mechanism is so clever.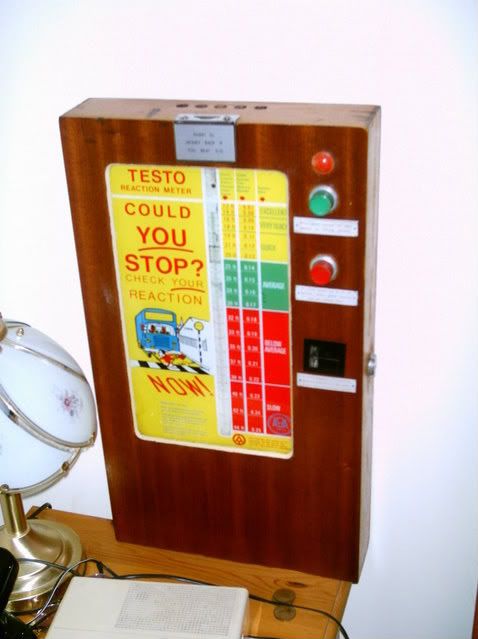 One day, if visitors ever came back to Margate, I would like to build up the collection further and open a museum, like there is in Brighton, Wookey Hole, Great Yarmouth etc.
I've been buying, restoring and selling amusement machines and pinball tables for as long as I can remember and I always think of these things as the "Quintissential Margate"